Estelle Poulard has taught music for many years. She created her company, Le Petit Conservatoire d'Estelle, to teach children of all ages.
Estelle started her own musical apprenticeship when she was seven years old and began playing an instrument (the clarinet) at the age of eight. She studied for close to 18 years at different music schools and conservatories, perfecting the art of her instrument with specialized teachers (in clarinet, chamber music, orchestra, music history).
After completing her studies, with many prizes and awards along the way, she turned to teaching her favourite instrument. Later, she obtained a position in a high school with a music major to teach chamber music, clarinet and theory to students in secondary levels 1 to 5.
Today, she devotes most of her time to her conservatory.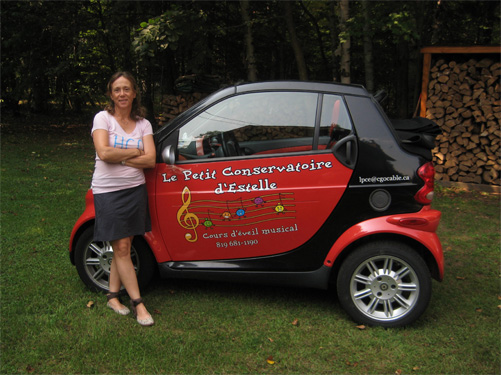 With musical awakening lessons, students explore music melodically, rhythmically, and physically.
Children learn to play rhythmic and melodic percussion instruments (drums, triangle, xylophone, bells, among others). They also take part in listening sessions and in activities designed to further the recognition of sounds and instruments. Songs and nursery rhymes are a regular part of the curriculum. Musical awakening is meant to develop musical culture, listening skills, concentration and motor skills in students.
What our students and their parents say about us
My daughter has been taking music lessons for nearly three years with the wonderful Estelle. She is an extraordinary teacher, creative, luminous and progressive. She knows children and adapts to their needs and desires. She not only gives them the urge to try, but also to push beyond. Thank you, Estelle, for opening up our children to this marvelous art and for sharing your passion.

Natacha et toute la famille
I bought two ukuleles (baritone and tenor) through Estelle's good services. She is fast, efficient and very generous with her time. She even offered us an introductory course! How nice, in this age of automation, to get human service from a qualified and trusted person! The two ukuleles she sold us are very reasonably priced compared to what is available online, yet they sound amazing. Thank you so much, Estelle!

An et François
My daughter has been taking lessons at Le Petit Conservatoire d'Estelle for just over three years, and I'm still delighted with the service. As a teacher, Estelle is professional, passionate, generous and particularly attentive to the needs of children and parents. She is especially good with the youngest students; she knows how get and keep them interested and attentive. She passes along knowledge with evident pleasure and conveys her love for music to her young charges. Thank you for all you do, Estelle!

Valérie
I have nothing but praise for the musical awakening lessons at Le Petit Conservatoire! For nearly 10 years now, the preschoolers from Kinder Preschool have been supremely fortunate to flourish in the playful and magical realm of Estelle Poulard. The weekly music sessions are so well designed and enjoyed that they should be an integral part of the curriculum for all children!

Nathalie Allard, Director, Kinder Preschool Inc.
The music awareness lessons Estelle gives to the children of our daycare centre are moments of pure happiness. In addition to providing turnkey service, she knows how to hold the attention of very young pupils as well as older children. As soon as the lesson is over, we can hardly wait until the next one!

Karine L., Daycare operator
Music allows children to enjoy themselves while developing a feeling for rhythm and motor skills. It also helps develop focus and self-control in an entertaining way. Estelle is a jewel in the art of conveying her passion to children!

Caroline L.
Music helped me tremendously with everyday life when I was younger. As a young girl with a lot of energy, the ukulele and my lessons with Estelle allowed me to practice patience and concentration. Afterwards, music gave me access to horseback riding, which is now I love above all else. How did music help my passions evolve in such a way? Quite simply, at the age of 7, I was much more independent and thorough than some young people my age. And now, at the age of 13, I've started playing the ukulele again and it feels great to be back to this activity that I enjoy so much. Music helps me relax and focus on the present moment. Who knows what it will bring me in five years? Thank you, Estelle, for everything.

Arianne S.
From the age of four until she turned seven, my daughter took music lessons at Le petit conservatoire d'Estelle. She loved it! It was fun and well-taught. She is 11 now and plays the piano. She wants to start the violin soon and has just passed the audition to do her high school studies with a music major. Thank you, Estelle, for instilling in Sophie your love of music. You couldn't have given her a better gift!

Isabelle D.