Our philosophy is to learn while having fun. The benefits of music, especially for children, have been proven – there is ample literature on the topic – and courses are designed to stimulate maximum interest as well as creativity.
Music is an excellent way to develop fine and gross motor skills along with synchronization. As well as being a hobby, it becomes a wonderful educational tool to help with expression and communication, reading, and maths, and reinforces concentration and self-confidence.
Let's make the most of children's desire to learn through educational games in an atmosphere of lighthearted fun!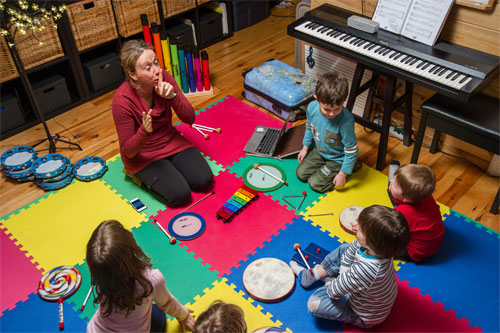 Awakening
Musical awakening is an invitation for the very young to gain a wealth of information through recreational activities that help them acquire musical notions while having fun. In a relaxed and enjoyable atmosphere, the lesson awakens their musical sensibilities by helping them taste the flavour of sounds and discovering musical instruments to hear and use. What could be more fun than rubbing, hitting or shaking instruments, reproducing the sounds of nature (ocean drums, rainsticks, etc.), and singing along to the ukulele or custom soundtracks!
This course is held in person only.
The ukulele
This workshop is for children ages 6 and over who are interested in discovering a joyous 4-stringed instrument sized for easy handling. They learn the play the ukulele alongside audio tracks, videos and sheet music. This playful activity has three parts: ukulele and piano (the basics), and theory (such as drawing the treble clef, reading musical notes, and clapping the different rhythms). All instruments and teaching materials are supplied. You may also purchase your own on our website starting this fall.
This course is held in person and online; find out more!